SOIL TESTING
---
Efficient management of soil is of paramount importance in breaking the yield barrier. Continuous cropping over long periods result in depletion of plant nutrients. Evaluation of the inherent fertility status of the soil is a pre-requisite for a balanced fertilization programme by taking into account the crop needs, soil supply of nutrients, fertilizer use efficiency and contribution from manures etc.
Soil testing programme was started in India during 1955-56 with the setting up of 16 soil testing laboratories in different States, under the Indo United States agreement. The first soil testing laboratory (STL) of Kerala was started in the then College of Agriculture, Vellayani, in 1957, under the Joint US technical aid programme. For the first three years, the laboratory functioned under the direct control of the Indian Agricultural Research Institute, New Delhi. Two more laboratories were started in 1966 in Alappuzha and Palakkad districts with the assistance from the US aid programme. A Central Soil Testing Laboratory was started at Trivandrum in 1978, to coordinate the activities of the soil testing laboratories and to ensure quality control of the soil testing service. Over five decades of its existence, the soil testing services has been extended to all the fourteen districts of the state.
The soil testing laboratories under the department of agriculture have been carrying out test for major nutrients, pH and EC till 2010. Subsequently, the STLs have started testing of soil samples for secondary (Ca, Mg, S) and micro nutrients (Fe, Mn, Cu, Zn,B), based on the findings from the project on 'Soil Based Plant Nutrient Management Plan for Agro-ecosystems of Kerala'. The STLs have henceforth been strengthened by providing testing facilities for the above nutrients and necessary training for the technical staff.
The Department of Agriculture has at present 14 stationary and 9 mobile laboratories providing soil testing advisories in all the districts.

ORGANIC AGRICULTURE
---
In its bid to re-establish the age-old traditional farming practices, the Government is taking up the task of turning Kerala into an organic State. The project initiated in Kasaragod District is proposed to be implemented in a phased manner through 'Organic Clusters' identified in various panchayats covering different crops. These Clusters in turn will convert potential areas to organic panchayats.
In Organic farming, soil fertility is maintained primarily based on the use of on farm organic inputs like farmyard manure, compost, oilcakes, green manures, biogas slurry, crop residues and biofertilisers.
Organic agriculture is not limited to crop production alone, but also encompasses animal husbandry, dairy, poultry, piggery and aquaculture. Judicious blending of different farming systems will aid in sustaining yield levels, maintain soil health and overall quality of the environment.
SOIL HEALTH IN ORGANIC AGRICULTURE
Basic objective of 'organic agriculture/organic farming' is the creation of a healthy and fertile soil on which the rest of the farm agro ecosystem is built. Organic farming is primarily a soil building process. Recycling of biological wastes back into the soil is the essential principle which provides microbial decomposers of their food supply, which in turn enhances the release of essential nutrients by decomposers. The greater use of organic manures will tend to create conditions of micro nutrient deficiencies which can be alleviated through inorganic supplements. The guidelines of the National Programme for Organic Production (NPOP, 2005) issued by the Government of India and USDA regulations (2012) in organic farming system, permit the use of a variety of inorganic fertilizer supplements to supply micronutrients after ascertaining needs based on soil tests or plant tissue analysis. Therefore, soil test based nutrient management should form an integral component of the organic farming strategies.
The following strategies will help to improve soil health and productivity

NUTRIENT MANAGEMENT
In organic farming, soil physical, chemical and biological properties are maintained primarily based on the use of onfarm organic inputs like farmyard manure, compost, oilcakes, biogas slurry crop residues, green leaf manures and in situ green manuring. Besides, approved mineral bearing rocks, biofertilisers and Vrikshayurveda products can also be used for improving soil health and maintaining productivity.

ROCK DUST AND REMINERALISATION
Application of rock dust/minerals in tropical environments brings about greater dissolution of rocks and minerals under high temperatures and moisture regimes. Use of rock dust in conjunction with composting, green manures, bioinoculants, microbes and mycorrhiza increases the solubilisation on nutrients and availability to plants.

USE OF BIOCHAR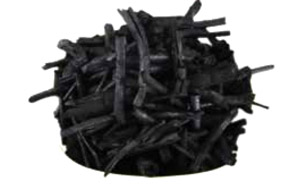 Biochar is a fine-grained, carbon-rich, porous product remaining after plant biomass has been subjected to thermo-chemical conversion process (pyrolysis) at temperatures of 350–600°C in an environment with little or no oxygen. Most of the crop residues in the farm like straws of paddy, sugarcane trash, leaves, fibrous materials, roots, branches and twigs. Agro-industrial residues like rice husk, coir pith, coffee husk, cassava peels, bagasse, tea waste, casuarina leaf litter, shells, cashew nut shell, coconut husk etc. can be used for biochar preparation. Biochar has a wide range of properties and uses as a soil amendment, conditioner and enhances water quality, nutrient use efficiency, absorption of toxic constituents and improvement in soil physical properties and microbial population and resistance to infestation by soil borne fungus, nematodes and insects
Biochar can be produced at the farm level by the heap and drum method or by using low cost biochar kiln at community level. Heap method is comparatively easy, low cost and can be done among farmers.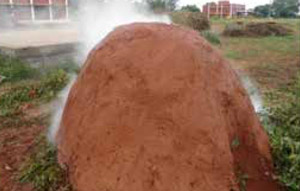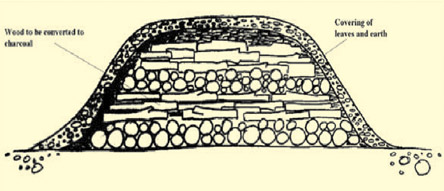 METHOD AND RATE OF APPLICATION
Like any other organic amendments, biochar can be applied to soil by different methods including broadcasting, band application, spot placement, deep banding or deep placement. Mixing of biochar with composts and manures may reduce odours, and improve nutrient performance over time due to slower leaching rates. Mixtures may be applied for uniform topsoil mixing, or top-dressed in tree plantations without incorporation
Given the variability in biochar materials, nature of crop and soils, users of biochar should consider testing several rates of biochar application on a small scale before setting out to apply it on large areas. Experiments have found that rates between 5-50 t/ha have often been used successfully. Trials for standardization of doses for various crops in the state are to be conducted.

BIO FERMENTS
Bio ferments are products obtained from the decomposition of organic matter. In this process effective microorganisms are important because they break down the organic matter thus releasing nutrients for plant growth. Bio ferments can be prepared in the farm at a low cost using animal dung and other crop residues from banana and legumes.
Production of compost using Effective Mountain Micro organisms is an alternative for small scale farmers to regenerate the fertility of their soil. This technology was implemented for the first time in Japan 20 years ago. This practice requires extraction of microorganisms from their natural habitat (nearby natural forest) and are multiplied using locally available inputs and easy techniques. These microorganisms are then incorporated in the preparation of organic solid fertilizers (Bokashi) and Bioles (fermented liquid fertilizers), in order to regenerate deteriorating soil health due to faulty agricultural practices
Bokashi – A fermented mixture of solid organic materials acted upon by microorganisms to realize nutrients that are important for crops. When applied to soil, the microorganisms help to restore soil life and minimize incidences of crop diseases thus producing healthy crops with vigorous growth and high yields.
Bioles - A fermented liquid organic fertilizer produced from organic liquid material acted up on by effective Mountain Microorganisms, such as yeast, fungi and bacteria. The liquid organic matter is then transformed into plant elements, vitamins, organic acids and other substances for plant growth. It is applied as foliar spray on crop and the nutrients are absorbed immediately. Enrichment of bokashi and bioles can be done by adding the calculated quantities of the desired nutrient (Phosphorus, potassium, calcium, magnesium, borax, silicate etc) either alone or in combination.

VRIKSHAYURVEDA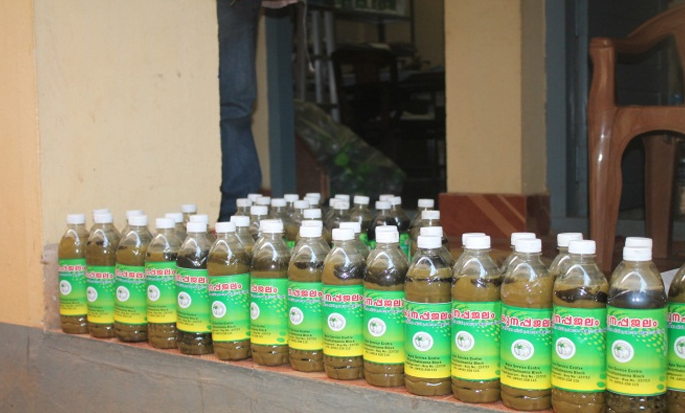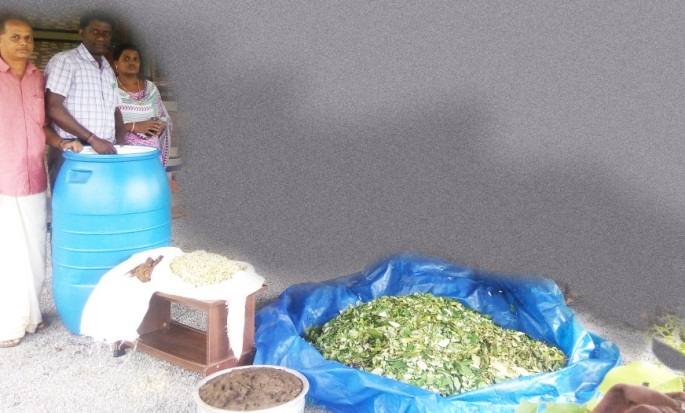 Vrikshayurveda is the art of maintaining the health, healing and productivity of plants. It is a scientifically unexplored area and forms part of the healing art of India exclusively practiced by Ayurvedic scholars for improving yield and restoring the quality of soil and environment.
A number of liquid bio fertilizers like Kunapajala referred in Surapalala's Vrikshayurveda have been used for soil quality improvement and nutrient supplement for crops. These Vrikshayurveda prescriptions are gaining popularity among many organic farmers of the state for soil quality improvement, as nutrient supplements and for pest and disease management. Preparation of Vrikshayurveda prescriptions Kunapajala is being successfully carried out by self help groups to meet the demands of farmers

RENEWING THE SOIL WITH SEA SOLIDS
Diluted seawater (DSW) is a simple yet vital input used in Natural Farming as a source of mineral nutrition for the production of a variety of fruit and vegetable crops, as well as for lawns, pastures, and flowers. Seawater combined with other inputs stimulates the growth of beneficial microorganisms that can help to suppress diseases. Sea minerals alkalize and mineralize the soil, which makes for a healthy soil and soil life. Infestation by soil borne insects, fungi and other pathogens are reduced to a considerable extent.
The novel initiatives mentioned above are cost effective, can be carried out at the farm level and suited to the agro ecological conditions of Kerala. These techniques have to undergo field level trials on various crops for further validation and standardization before large scale dissemination to farmers.
Ecological intensification of soils is a promising approach to enhance agricultural sustainability through the enhancement of soil biodiversity using targeted agronomic management techniques. Organic agriculture also offers potential for ecological intensification which can reverse the degraded soil eco system through alternative strategies for promoting biodiversity. Locally available ecological approaches have to be adopted through community level participation.

+ 91 471 2527567, + 91 471 2700777

© 2019 | System conceived,designed and implemented by IIITMK